Jackpot, Tiger – Jackpot, Tiger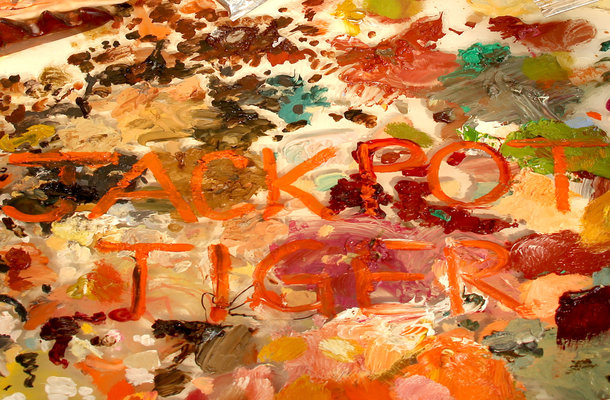 Music fans can put their worries of finding the perfect summer soundtrack of 2014 to rest as the self-titled sophomore album from Jackpot, Tiger is out today.
The much anticipated album has a perfect opener in Caught In Love which I previously reviewed. It is the perfect opener as it is a song that I dare you to get out of your head after the first listen. I know I could not do so!
The immediate drum & vocal intro to Hey, Remora! has a great pep to it that you knew it would be yet another irresistibly catchy song that you will be singing along with all the time. The shouting chorus fits perfectly within the vibe of the song. However with all of that, my favorite part of the song (also one of my favorites on the album) is the jazz feel change of pace that starts at 1:42 & lasts until 2:20. The sax was a fantastic touch that really gelled it all together perfectly. My first thought was I wish they would make a full song around that beat. Perhaps a future idea……
When I first was sent the album a few weeks back, the first thing I did was scan the track listing hoping to see if 2 of my favorite tracks they play live made the cut. I was relieved when I saw they did. One of those two tracks was No Crying which I always loved for its simplicity & great harmonies towards the end. I was very happy to see that they stayed true to the feel of the song with the studio version. I will never get enough of the 1:54 point on.
Alone With You is a standout track in many ways for the band. For starters, I was definitely intrigued from the opening second intro when lead singer Alex Kahn asks  "Don't I fascinate you?" It also showcases that they have more to bring to the table besides sugary sweet bubblegum tracks that get stuck in your head. I feel its place on the album was perfect as older fans get what they are accustomed to before showcasing they have matured their sound as time has progressed.
Next up we have the second track I was happy to see made the album in Please Protect Me. I fell in love with this song the first time I ever saw it performed. What always hooked me on this song was the soft yet melodic guitar intro from Claire McGinley with perfect guitar texture from Alex. Thankfully they once again stayed true to the spirit of the song as it sounds as beautiful & memorable as the first time I heard it.
Want To, Want To is flat out a turn up your music player of choice & just have fun rocking out. What really gave this track that extra kick was the drum work from Kevin McGinley. I also really dug the guitar solo.
Easy is just a song that you can't help but sway from the side to side while having a beer or drink in hand. The verses gave off a feel as if I was at a cool beach party with a bunch of friends.
Pistol Girl features some nice crunch from over-driven guitars that give it a nice edge while maintaining a fun vibe. The best part is the last chorus which had great guitar work to give a great ending.
As I mentioned in my review of their show last month, Not Crazy is one of my favorite tracks from the album. I love the subtleness of Claire's vocals which you can't help but get caught up in. What really makes this song pop is the bass work from Eryck Tait which helps shape the nucleus of this irresistible song. I could listen to this song for days on end & never get tired of it.
Shortbread Cookie is a cute little 29 second instrumental interlude that I am sure everyone can enjoy & appreciate. This was followed by another interlude in the 1:29 long Cool Country. This is a song that I could only picture Claire singing. I would love to one day hear it live & perhaps even get a longer version of it as I love her vocals & the beat.
The album ends with Float Away which I was absolutely floored by the first time I heard it. The sedated & haunting feel of this song is unlike anything I have ever heard from them. I was amazed at how perfectly they pulled it off as if I did not know any better, I would think this was their atypical sound. This is a song that will definitely stand the test of time for me.
Alex's vocals fit this song perfectly as you really feel every single word he sings which is not an easy feat. The 2 & a half plus instrumental ending is pure perfection as it serves as a perfect time to really reflect on what you perceive the song to mean. I was not shocked at all to find out this was his favorite on the album. Hopefully they will find a way to replicate it live even though it will be hard as you don't want to lose even a second of its feeling.
The new Jackpot, Tiger album is definitely the perfect 2014 summer soundtrack. However even with saying that, I feel like I am doing a disservice to how great of an album this really is as it is something that should be enjoyed year round as it contains many songs that will hold up years later.
Do yourself a huge favor & pick up the new album by visiting Jackpot Tiger's Bandcamp.
Tracklist:
Caught In Love
Hey, Remora!
No Crying
Alone With You
Please Protect Me
Want To, Want To
Easy
Pistol Girl
Not Crazy
Shortbread Cookie
Cool Country
Float Away